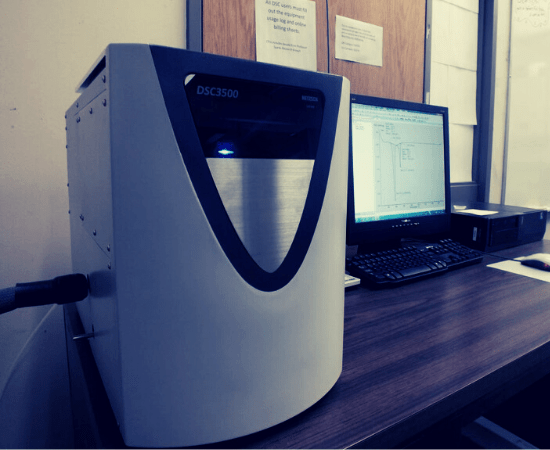 Do you need to understand the fundamental Thermodynamic and kinetic properties of materials critical to your success?
HOW CAN IT HELP
Percent (%) crystallinity of polymers
Heat capacity of materials
Thermodynamic and kinetic properties of materials
Basic phase transitions such as melting, crystallization, glassy transition, evaporation, etc.
DETAILED DESCRIPTION
A thermoanalytical technique in which the difference in the amount of heat required to increase the temperature of a sample and reference is measured as a function of temperature. Both the sample and reference are maintained at nearly the same temperature throughout the experiment. Generally, the temperature program for a DSC analysis is designed such that the sample holder temperature increases linearly as a function of time.
HOW MUCH DOES IT COST?
Typically $34 per hour, plus assistance if needed.
WHAT CAN I EXPECT?
The unit is located at MCE 1325 (110 Central Campus Dr, Salt Lake City, UT 84112). Schedule a time to use the equipment with the MCE Dept and request assistance if required.
HOW TO GET STARTED
Review training at:
https://mcl.mse.utah.edu/equipment/netzsch-3500-sirius
Download PDF