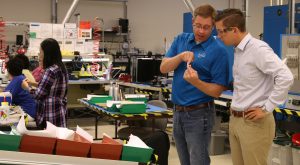 By Maureen Brakke, Marketing Manager
In case you haven't worked with us before or heard of us, we are public-private partnership working with manufacturers to improve all aspects of manufacturing, from the shop floor to the front office. We've recently worked with clients on projects ranging from website development, equipment selection to industry certifications. We recognize there is not a one-size solution for everyone, and we pride ourselves in creating customized solutions for each of our clients. However, there are some client offerings you might not know we provide.
Below is a list of the top ten offerings you (probably) didn't know we provide:
1. Tech Scouting & Technology-Driven Market Intelligence (TDMI): It's no secret that technology can be the great equalizer for small and medium-sized manufacturers. Whether your company is evaluating its technology for market diversification, strategic planning or understanding the market landscape and drivers, our TDMI process uses a proven and robust tool-set to gather real world insight from industry experts and assess your technology's commercial opportunities and barriers. Contact us for more information.
2. Marketing: Navigating the world of online marketing can be daunting. From website creation, to brand development and social media management, we have what it takes to give your business a great first impression. Having an up-to-date and user-friendly website is important in today's marketplace. If you need to design a company brand, re-brand, or need help getting started with social media–or need someone to manage it, we have trusted third-party providers we work with to ensure our clients receive the best marketing services possible. Contact us to learn more.
3. Food Safety Certifications: If you are in food manufacturing, having the right certifications can be key in growing your business. Whether it's SQF, FMP, or just FSMA, our team will help you prepare for that activity. Contact us to learn more.
4. Energy Assessments: In partnership with the Intermountain Industrial Assessment Center, we provide energy audits to help clients identify opportunities to improve productivity, reduce water, and save energy. This audit typically identifies more than $130,000 in potential annual savings opportunities for every manufacturer assessed, nearly $50,000 of which is implemented during the first year following the audit. Check out our short video on energy-saving tips. Contact us to learn more.
5. Design Engineering: CAD design and quick CAD design are not usually found in the same sentence, but that's exactly what we do. Our team is capable of delivering rapid CAD prototypes and works directly with our clients to eliminate wasted time. Along with delivering a digital CAD file and associated drawings, our team has over 50 years of combined experience in designing for manufacturability and provides valuable feedback to prevent future pitfalls. Contact us to learn more.
6. ExporTech: Ever thought about selling your product internationally? This is a national export assistance program helping companies enter or expand in global markets. Jointly offered in Utah by us, U.S. Commercial Service, and World Trade Center Utah, we will be launching our first training class late Spring of 2018. Contact us to learn more.
7. Statistical Process Control (SPC): SPC is an industry-standard for measuring and controlling quality. It is data-based and uses statistical techniques. In short, it's a key tool to improving quality in a manufacturing process. Our team works hand-in-hand with manufacturers to provide guidance and assist with implementation on your production floor. Contact us to learn more.
8. Facility Layouts: We are ready and able to make your facility's layout as efficient as possible. Powerful simulation and assembly software combined with our team's experience will push your floor plan beyond the industry standard. We work directly with you to determine your needs and develop a plan for future growth. Contact us to learn more.
9. Equipment Selection and Installation: Introducing new equipment into your assembly line involves much more than a PO and power cord. Our team has experience matching needs to equipment characteristics so that our clients can be assured they are spending their capital on the right equipment. With the right equipment selected, we develop an efficient layout, list installation requirements, and generate standard work instructions. Contact us to learn more.
10. Simulation: Improving processes, increasing efficiency, and reducing costs without risking capital–that's a no-brainer. We use process simulation to rapidly analyze, test, and implement process changes that increases your company's profitability. Our staff is trained to leverage discrete event simulation software that proves out processes to ensure your facility is running at peak performance. Contact us to learn more.
We look forward to hearing from you and learning about your company's needs. Call us at 801.587.0713 or shoot us an email at info@mep.utah.edu
Maureen Brakke is the marketing and communications manager for the University of Utah MEP Center. She previously worked for the Utah System of Higher Education in marketing and communications, managing multiple initiatives, brands, blogs, and websites. Connect with her on Twitter.