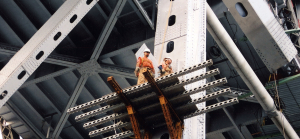 Seated just outside Zion National Park, S&S Steel Fabrication has over 35 years of experience in preparing structural steel for commercial applications. They provide the skeleton for new construction in oil and gas, mining and minerals, power transmission, and government applications.
Project Scope
S&S Steel wanted to standardize their project management process.
Solution
Staff engineers at the University of Utah Manufacturing Extension Partnership (MEP) Center used process mapping to identify key areas of waste and highlight areas for improvement.
Results
Developed a standardized project management delivery process.

Generated a process map; key decision points highlighted.
Impacts
Increased productivity for 3 project managers by 10%.

Cost avoidance: No more redundancy or delays in process, saving $26,000 per year.

Bid details are no longer missed, not as many errors to address, saving $50,000 per year.
Client testimonial
"Our experience with the MEP Center was very positive. They were respectful of our time, made the best use of it, and helped guide us through the process to achieve our desired result. They brought insights and experience from outside our industry and applied them appropriately. Our estimating and project management teams are more efficient and our exposure to risk is less due to their involvement." Jeff Staples, Sales Manager