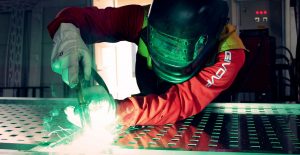 By the Salt Lake Chamber of Commerce
As a digital society, we unavoidably operate in a connected checkerboard of shared vulnerabilities. Inadequate security, or perhaps negligence on behalf of one party, can open a door into the entire network. In Fiscal Year 2017 the National Defense Authorization Act (NDAA), took action to mitigate the potential risk various DoD contractors were responsible for within the network. Through an assortment of cybersecurity-focused provisions the government began arrange for stricter requirements for winning contracts. On December 20, 2016, the National Institute of Standards and Technology (NIST) published Revision 1 to Special Publication (SP) 800-171, Protecting Controlled Unclassified Information in Nonfederal Systems and Organizations. Compliance with cybersecurity requirements have now become critical input when deciding whether to award a contract that requires the processing, storing, or transmitting of controlled information on a contractor information system.
If you are a manufacturer looking to secure a government contract, the Salt Lake Chamber highly encourages you to reach out to the University of Utah Manufacturing Extension Partnership (MEP) Center for consultation, resources, guidance, and education to enhance your cybersecurity readiness. Watch helpful presentations or perhaps devote some time to reviewing the GAP assessment available on the MEP Center's website. However you go about improving your company's information security protocol, know that there are resources available to support you and that your efforts will lead to a stronger, more competitive business model.
Contact us to get started on your cybersecurity business plan
Check out the cybersecurity resources from the Salt Lake Chamber of Commerce